Patagonia | Chile
Patagonia Baker Lodge
Season
October-May
Offset Partner
Yes
7 nights / 6 days
from $7,500 per person
Overview
The mighty Rio Baker is perhaps Chile's most iconic and beautiful river. Well-known to fly fishers, kayakers and rafters which have floated its glacially-tinged waters for decades, the Baker received worldwide recognition in 2014 when an enormous civic action campaign saved the river from a massive dam and hydroelectric power project that would have destroyed the river's raw, wild nature and untarnished ecosystem. Thanks to that campaign, today the Baker still flows free and wild. It beckons anglers from across the world to ply the river's turquoise waters for trophy brown and rainbow trout which rise greedily to dry flies and voraciously attack streamers, all amongst one of the most scenic valleys in all of Patagonia.
As the only full-service fly fishing lodge in the region, Patagonia Baker Lodge offers anglers unparalleled access to the Rio Baker and other nearby rivers, lakes, and streams.
The Fishing
Fed by the outflow of Lago Bertrand, which in turn is fed by Chile's largest lake, Lago General Carrera, the Baker functions almost as a natural tailwater. Though the Baker's flows are big and powerful, the river is rich in structure, leading to a uniquely diverse menu of fishing scenarios. Whether plying the Baker's classic riffles and runs that flow between mid-river islands, exploring the sandbars that predominate certain sections of the Baker, or pounding the riverbanks for trout lurking under cover — the Baker has something to offer anglers of almost every style and skill level. Dry fly anglers will love the river's huge and dependable and caddis hatches, while streamer aficionados will marvel at power with which some of the Baker's true giants will attack big, articulated and heavily-weighted streamer patterns. 
Beyond the Baker, anglers looking for a change of pace can explore the lakes in search of outsized giants, the technical waters of Rio Cochrane, or lesser-known local rivers such as Rio Maiten and Rio Chacabuco.
Accomodations
LODGING: The stunning Patagonia Baker Lodge, newly built in 2022, will welcome guests for the first time in October of 2023. Constructed of local hardwoods and river rock, the lodge sits directly on the shores of Rio Baker, offering expansive views—both from the lodge's common areas and guest rooms—of the river and the Cordón Contreras mountain range which watches over the valley. As the newest in the Magic Waters family of Patagonian fishing lodges, the lodge is able to draw on the knowledge and experience of an expert team while offering anglers an entirely new experience. 
DINING: Enjoy three chef-prepared meals each day in addition to an unreasonably plentiful and delectable daily offering of hors d'oeuvres. Hearty breakfasts feature both Chilean and American staples such as breads, cereals, yogurts, eggs, meats, and fresh fruits. Lunches, typically served streamside, are hearty and filling — often including soups, stews, and sandwiches. Dinners feature pasture-raised Patagonian beef and lamb, local seafood, locally grown produce, and freshly baked breads.
CONNECTIVITY: Enjoy high-speed WiFi access while at the lodge. Cellular service is generally spotty, but available.
Sample Itinerary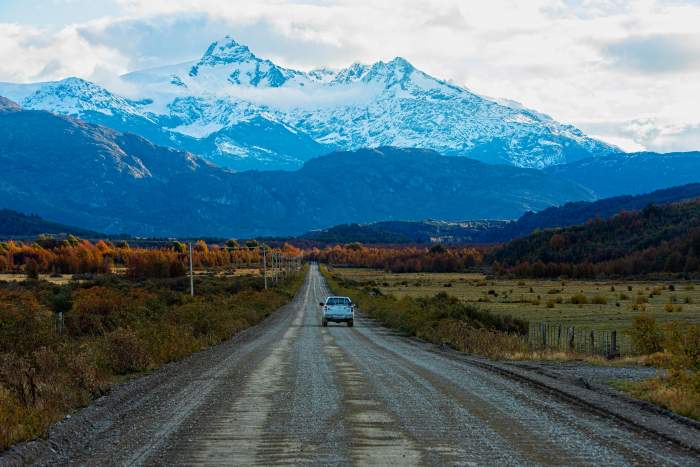 Arrival
Arrive to Patagonia Baker Lodge
After the breathtaking drive down the Caraterra Austral, including a stop for a hearty lunch, you'll arrive late afternoon to Patagonia Baker Lodge — your outpost on the river for the next week. Explore the grounds, take in the incomprehensibly expansive views of the river and the Andes mountains from the lodge's great room or deck, and enjoy a cocktail or a glass of wine while you wait for hors d'oeuvres and dinner to be served. After a delicious, chef-prepared meal and an evening spent chatting with the other guests about the promise of the week, fall asleep to the sounds of the river. Tomorrow, you'll meet the Baker.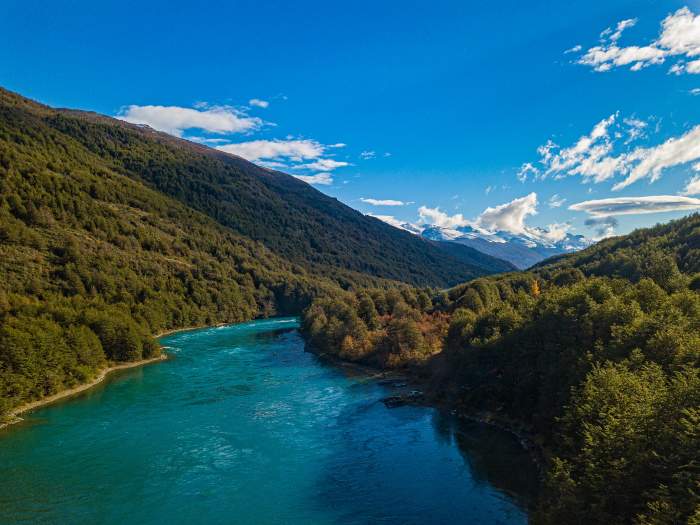 Day 1
Meet the Baker
After a satisfying breakfast, grab your gear and head down to the boat launch, where your guide and cataraft will be waiting — ready to launch straight from the lodge's shores. Float the mighty Baker for the first time, plucking feisty browns and rainbows from the river's riffles, runs, and deep structure. But don't forget to look up every once in awhile at the rainforest-clad mountainsides and towering peaks that loom over the river. After all, you're in Patagonia.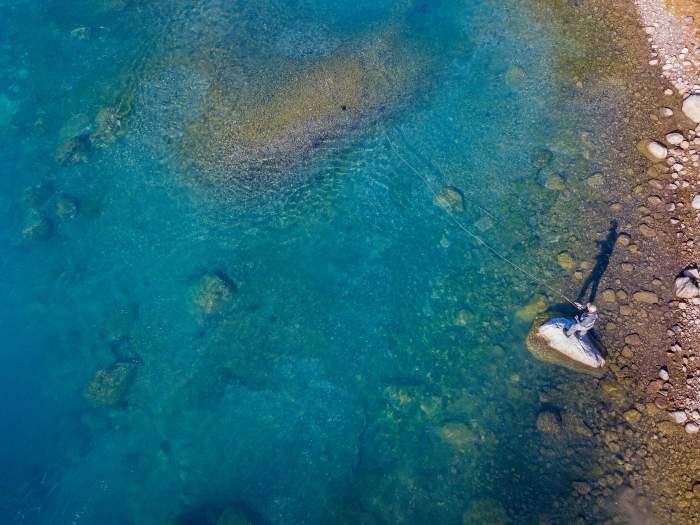 Day 2
Working the river on foot
Despite being Chile's largest river by volume, for anglers that like to stretch their legs or simply enjoy fishing on foot, there are plenty of opportunities to walk-and-wade the Baker. Cast big, attractor dry flies over rocky structure, swing streamers between the river's sandbars, or even float a nymph through braided riffles and runs. Getting out of the boat can also allow anglers to work known hot-spots more deliberately and precisely than is possible while floating the river.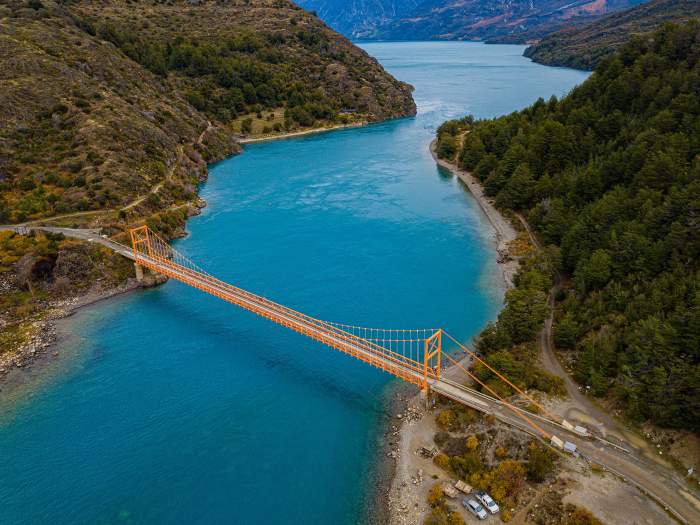 Day 3
The lakes
Lago Bertrand and Lago General Carerra — the birthplace of Rio Baker — are where anglers go in search of truly giant trout. Bertrand and Carrera's browns and rainbows can push 20 pounds, and fish in the 12-15 pound range are relatively common. While the biggest fish usually require deep presentations with heavily weighted flies and sinking lines, the lakes can also offer surprisingly good dry fly fishing during certain times of year.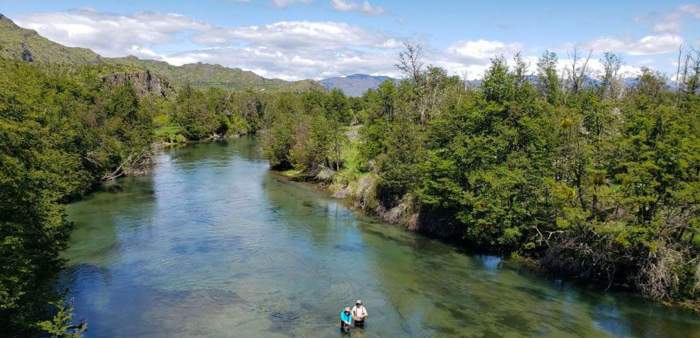 Day 4
The Cochrane
The Cochrane's soft, sandy bottoms; steep, willow- and calafate bush-lined banks; lush weed beds; and placid, crystal clear flows combine to present a serious challenge to fly anglers. Catching Rio Cochrane's wary trout requires stealth, patience, and precision. But those who rise to the challenge are often rewarded with unforgettable encounters with the river's oversized, beautiful trout.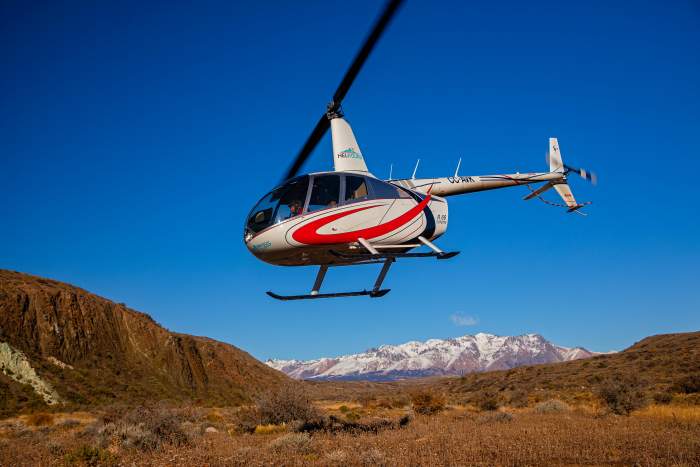 Day 5
Exploration
Rio Baker and the lakes that feed its turquoise-tinged flows may be the region's main attractions, but there's much more to explore—even beyond the technical waters of the Cochrane. Not far away, other small-to-medium sized rivers like the Maiten and Chacabuco course through magnificent canyons — waiting for anglers that enjoy hiking and adventure. Or, for those interested in seeing the Patagonian Andes from the skies, helicopter fly outs (an add-on available at additional cost) offer not only unparalleled views of the snow-capped Cordón Contreras range but access to multiple trophy trout streams south of the lodge.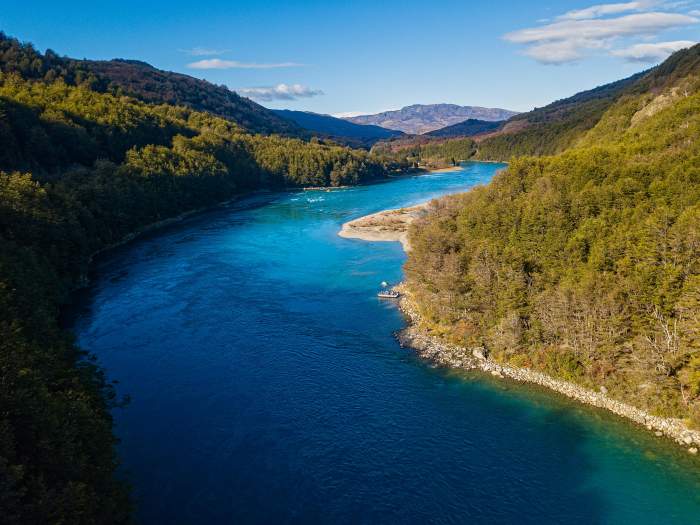 Day 6
Back on the Baker
It's back to the mighty Baker for your last day in Patagonia. Bring a few more dry-fly eaters to hand, up your numbers with a hopper-dropper combo, or swing a streamer on a sinking line in hopes ending your Chilean fly fishing adventure by stretching the tape on a 30-incher. They're there. 
Included
Ground transportation Transfers from Balmaceda airport to the lodge
Guided fishing Fully guided drift boat and walk-and-wade fishing
Lodging First-class lodging at Patagonia Baker Lodge
Meals Chef-prepared, Chilean classics
Beverages Alcoholic and non-alcoholic beverages are included
Equipment Orvis loaner rods, reels, and lines
Flies Want to leave your fly boxes at home? Go ahead.
Licenses Licenses and permits for your trip are included
Getting There
When traveling to Patagonia Baker Lodge, you'll fly to Balmaceda International Aiport (BBA), typically connecting through Chile's capital city, Santiago (SCL). A Patagonia Baker Lodge representative will greet you in Balmaceda, where you'll begin your journey by van or pickup truck along Chile's famed Carretera Austral — the more than 1000 km long route through rural Patagonia. Throughout the roughly 4-5 hour trip, you'll be treated to breathtaking views of Patagonian Andes and their surrounding lakes, valleys, and more.