Patagonia | Chile
The River of Dreams Basecamp
Season
October - May
Offset Partner
Yes
7 nights / 6 days
from $6,900 per person
Overview
The middle section of Rio Blanco is some of the most untouched water in all of Patagonia. The lower reaches of the Blanco, near its confluence with Rio Aysén and mere miles from where the river dumps into the Pacific Ocean, can be reached via both an unimproved dirt road and by upstream jetboat—until powerful waterfalls and class IV rapids block your way. And a few miles downstream of the river's origin can be accessed by portaging across Lago Caro and hiking downriver. But the vast middle river, which courses powerfully through a lush, Valdivian rainforest valley, is completely isolated.
That vast middle river—30 miles of pristine, trophy trout water accessible only by horseback or helicopter—is known to those that have made the trek as The River of Dreams. Fished only by small groups of 6 anglers per week, and by only a handful of anglers each year, the River of Dreams is an unspoiled treasure, even by Patagonian standards.
The Fishing
Like many of Chile's glacier-influenced rivers, the Blanco is relatively sterile—at least when compared to the nearby Rio Simpson, and many of the Rocky Mountain West's most iconic streams, where an abundance of aquatic insect life keeps trout fat, placid, and happy. But don't let that fool you. When the Blanco's shouldered brown trout aren't rising to sporadic mayfly hatches, they're ill-tempered predators, voraciously feeding on smaller fish, the thumb-sized beetles and grasshoppers that line the river's banks, and—oh, yes—mice. Undisturbed by pressure or harvest, the Blanco's browns and rainbows grow large. Very large. Fish up to 28" inches have been wrenched from the Blanco's emerald waters, and fish over 20" are a regularity. 
From the catbird's seat in a cataraft, you'll cast to these confrontational trout in a setting that might have you scanning the banks for a velociraptor and watching the skies for pterodactyls. While you're steeped in the aura of this temperate wilderness, don't forget that the river is where your attention should be. Because that's where the huge dry fly floated over some of the most complex wood structure you've ever seen, or the three-inch-long articulated streamer that casts like one of Kareem Abdul Jabar's wet tube socks, or—better yet—your helpless little mouse pattern is about to get crushed by a brown trout so mean, you'll be sure it has a criminal record. When that first 20-inch brown launches itself from the river in pursuit of your hapless concoction of foam and hair, you'll only have three words in your vocabulary. Oh. My. God. 
For those that prefer to fish on foot, it's worth nothing The River of Dreams isn't just a boat river. The Blanco is punctuated by walk-and-wade braids and channels where you can swing flies or target rising fish. And, just a 30-second stroll from basecamp flows a walkable spring creek where the occasional two-foot-long brown will gulp a dry fly and then spring from the water as it protests its "food" biting back. 
Accomodations
LODGING: Yes, technically River of Dreams is a camp. But, to be honest, it's not really camping. Host Eduardo Guarda and his team have constructed a jungle oasis on the banks of the river complete with well-appointed cabins, and a comfortable dining hall — no small feat when you consider what it took to just get you and your gear into this remote location. Even more remarkable? Flush toilets and hot showers. Happy "camping." 
FOOD/DRINK: This isn't where you would expect chef-prepared meals, fine wines and a well-stocked bar, but that's what you'll get. Delicious Chilean fare is served nightly in the spacious dining hall, and over dessert, you and your guide can gin up the next day's plan of attack. 
CONNECTIVITY: Yes, Virginia, there's an internet connection. Say hello to the family each and every night. 
Sample Itinerary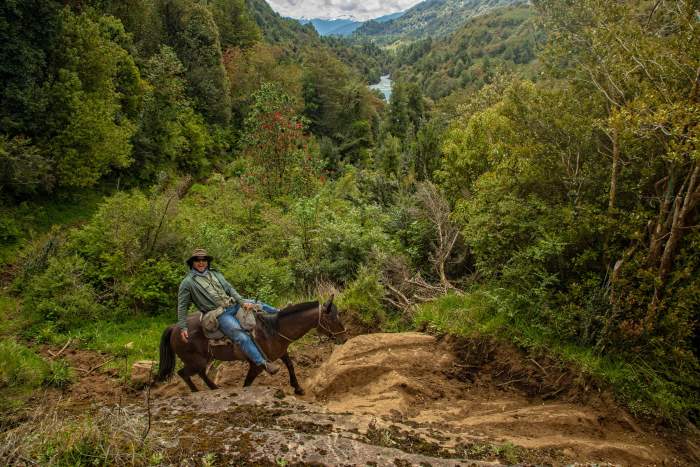 To basecamp
The adventure begins
How many times have you heard "the journey is part of the adventure" or something similar? It's an overused cliché. When it comes to the River of Dreams basecamp, however, it's true. Most guests who visit camp make the trek by horseback. After a scenic drive through Simpson River National Park, you'll reach the lower Blanco, where you'll meet gaucho Jorge Martel. Martel and the River of Dreams guide team pack all the gear, food, and other supplies that will be needed for your stay into oversized, weatherproof sacks and load them onto packhorses, which will lead a caravan of guides, camp staff, and anglers up and over the mountains that guard the Blanco's middle reaches. The ride doesn't require previous experience on horseback, but it does require anglers willing to brave the rough and exhilarating ride, as the horses clamber over boulders, descend rocky switchbacks, ford small creeks, and make their way through hock-deep mud. After a couple of hours on the horses, your journey is almost complete. The final leg of the trip is via jetboat, up the Blanco to the River of Dreams basecamp. Guests that opt for the only other way into basecamp—helicopter—will have an adventure of their own as they fly over many of the Coyhaique region's most famous rivers on their way to the Blanco.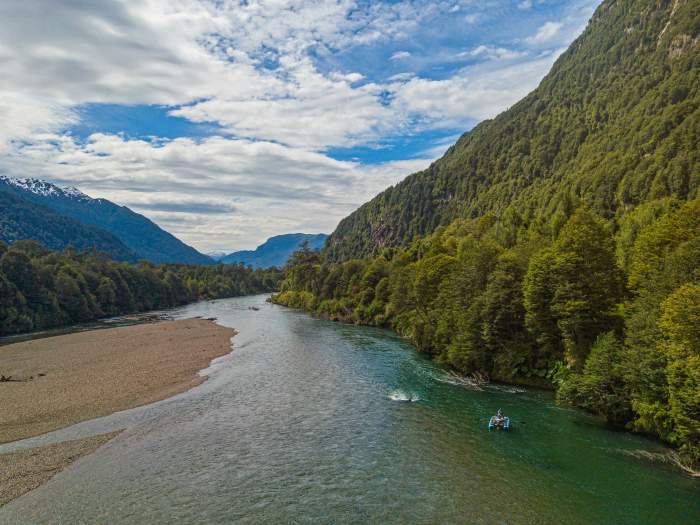 Day 1
El medio baja
After a hearty breakfast in the camp's main lodge, you'll hop aboard catarafts and head north—downstream—which means fishing begins the moment you put in. It also means that all those preposterously fishy bend pools, cutbanks, sunken logjams, drop-offs, and boulder-strewn runs that had you shaking your head on your way upstream the day before are yours to target.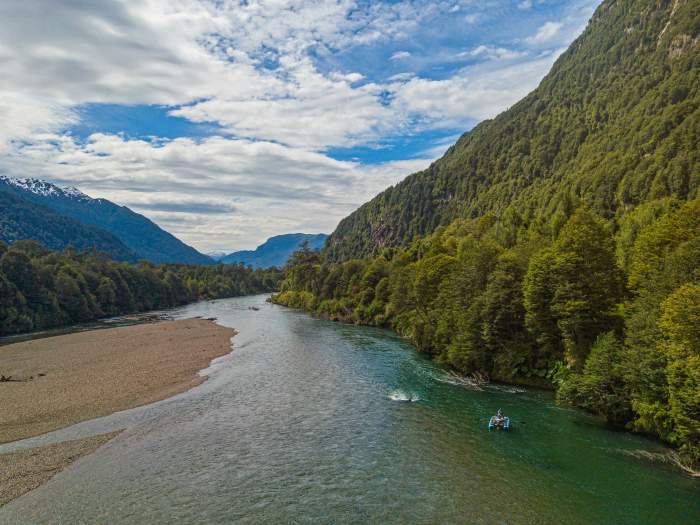 Day 2
El medio superior
Today you'll head south—upriver—over as much as 20 miles of the Blanco that you've yet to lay eyes on. If conditions permit, your guides may opt to make the run all the way to the farthest reaches of the middle river. From there, you'll spend the day floating the river all the way back to camp, as your guide transits from bank to bank (even hopping on the motor from time to time) to target the absolute best of the Blanco's banks, runs, and riffles.

Day 3
Paradise spring creek
If you haven't already been lured to the creek one evening after returning from floating the Blanco, you'll cast your first flies to the trout that swim in camp's regularly—but always temporarily—overlooked treasure. Today your destination is the spring creek that flows directly behind camp, a literal stone's throw from your cabin. Though the creek, officially, is unnamed, the guides and guests that have fished the creek have taken to calling it "Paradise spring creek." After a day on the creek spent casting mayflies, fat foam terrestrials, and bulky mouse patterns to the creek's resident fish—which are pumpkin, butter, and molasses-colored unlike the sleek, silvery browns of the Blanco—you'll understand why. And if you're lucky enough to have had a torrential downpour overnight (yep, you read that right), you just might be in for the time of your life.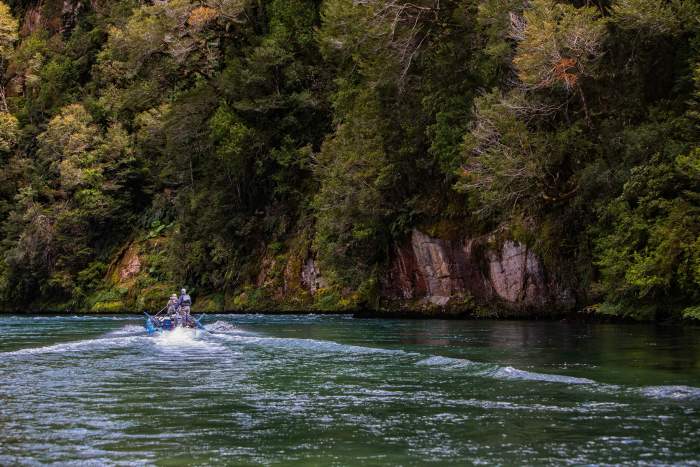 Day 4-5
Exploration
You've sampled the River of Dream's best wares. Where will the rest of your trip take you? A jetboat ride downstream to fish the river's lowest reaches, before an RV-sized boulder and dangerous rapids block passage and where some of the Blanco's biggest fish swim? Or will you explore the river's many side channels? And then there's the Bongo River, a tributary of the Blanco that joins the main a short boat ride downstream from camp. And, of course, you could head back upstream, targeting runs and banks and you missed earlier in the week. Or ...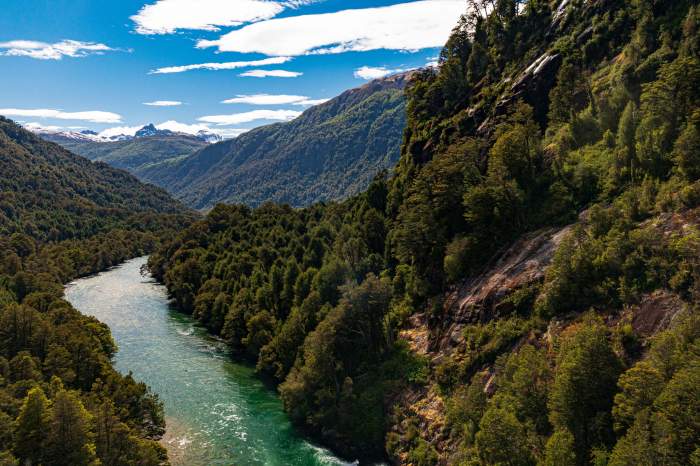 Day 6
Getaway day
Today's the day you make your way downriver and, sadly, leave the River of Dreams basecamp behind. But don't worry, you're not done with the Blanco yet. After breakfast, you'll pack up your gear and hop in the catarafts one last time. You'll spend a half day fishing your way to the lower river outpost where you'll meet Martel's horses for the ride out of the valley. If you haven't yet had the good fortune to net a 25-incher from the Blanco's waters, you'll have one last chance.
Included
Ground transportation All ground transfers included
Guided fishing Fully guided drift boat and walk-and-wade fishing
Licenses and permits Fishing licenses for your trip are included
Lodging Lodging at the middle-of-nowehere marvel that is the River of Dreams basecamp
Meals Chef-prepared Chilean classics
Beverages Alcoholic and non-alcoholic beverages are included
Equipment Don't want to bring yours? Rods, reels, boots, and waders are available for your use
Flies and terminal tackle Want to leave your fly boxes at home? Go ahead.
Getting There
Travelers headed to the River of Dreams fly through Chile's largest city, Santiago, and connect through (approx. 2 hour flight) to Balmaceda, in Chilean Patagonia. From there, anglers headed to basecamp via horseback will take a ground transfer to Puerto Aysen, where they'll be greeted by their horses for the trip in. Guests traveling to basecamp via helicopter will ground transfer to Magic Waters lodge where they'll meet the helicopter for their flight to camp.