Qeqqata | Greenland
Kangia River Lodge
Season
June-August
Offset Partner
No
7 nights / 6 days
from €5,390 per person
Overview
Is Greenland the angling world's newest frontier? Some think so. In fact, many anglers aren't even aware that it is possible to travel to Greenland to fish. Thanks to remaining out of the spotlight, as well as to Greenland's remote location and lack of development, many of the island's rivers remain unexplored. Of those that have been scouted by anglers, the Kangia is king. As the seasonal home to an uncharacteristically large population of powerful, sea-run Arctic char, there may be no river in all of Greenland that offers the bounty of the Kangia.
Surrounding the Kangia river valley are coastal Greenland's rugged mountains and crystalline rock of the Precambrian shield. Some of the oldest rock on the planet—nearly 4 billion years old—is found in this part of Greenland. Diverse wildlife also predominate, with seals, as many as 15 species of whales, caribou, Musk oxen, fox, and mountain hares regular sightings near the Kangia.
The Fishing
Situated on the southwestern coast of Greenland amongst its breathtaking fjords, the Kangia River empties directly into the Atlantic Ocean. From there, sea-run char venture a short 10km upriver, where fish passage is blocked by a natural waterfall. The waterfall and the large, seasonal runs of Arctic char combine to concentrate fish heavily through the entire fishable length of the river. Anglers will find char congregating in nearly ever run, riffle, and pool throughout the Kangia. 
Catch rates on the river exceed almost every angler's expectations. The Kangia is a place where 50-fish days aren't just possible, they're common. 
The Arctic char in the Kangia also tend to be significantly larger than those found in other Greenland rivers, though know one knows why. An average char in the Kangia weighs in at over 2 kg (~5 lbs), 3-4 kg char are common (~7-9 pounds), and fish over 5 kg (~ 11 pounds) are typically encountered each week. The largest char caught on the Kangia tipped the scales at 6.3kg (14 pounds) — and bigger fish have been hooked and lost.
Most fish are caught on swung flies or stripped streamers, with both one- and two-hand rods used on the river. Char are caught regularly with skated surface patterns, poppers, and topwater gurglers, adding a preposterously entertaining dimension to fishing on the Kangia.
Accomodations
LODGING: While there's nothing fancy about the Kangia River Lodge, which sits on a plateau overlooking the mouth of the river, its simple accommodations for up to twelve anglers are well-equipped, clean, and comfortable and feature a recently remodeled bar and lounge area.
FOOD/DRINK: Food at the lodge is simple, but tasty and abundant. Breakfasts feature eggs, meats, cereal and fresh fruit. Lunches are typically sandwiches and other simple fare. Dinners range from seafood (freshly harvested from the Kangia and nearby Atlantic Ocean) to grilled meats to pasta dishes.
CONNECTIVITY: Due to its remote location, there is no cellular service or WiFi available at the lodge. The camp staff keeps a satellite phone on hand for emergency use only.
Sample Itinerary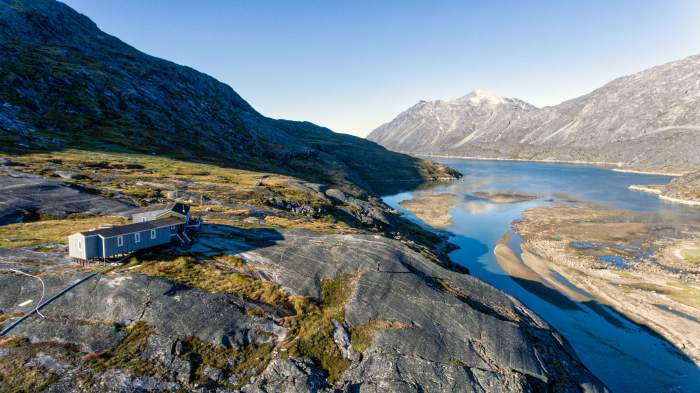 Arrival
Arrive at the lodge
Kangia River Lodge may be simple, but you'll find it welcoming, comfortable, and the perfect place to relax and enjoy a post-fishing beer or cocktail. The lodge offers expansive, stunning views of the Kangia and the Atlantic Ocean, and its deck provides unparalleled nighttime opportunities for watching the northern lights over a whiskey and a cigar.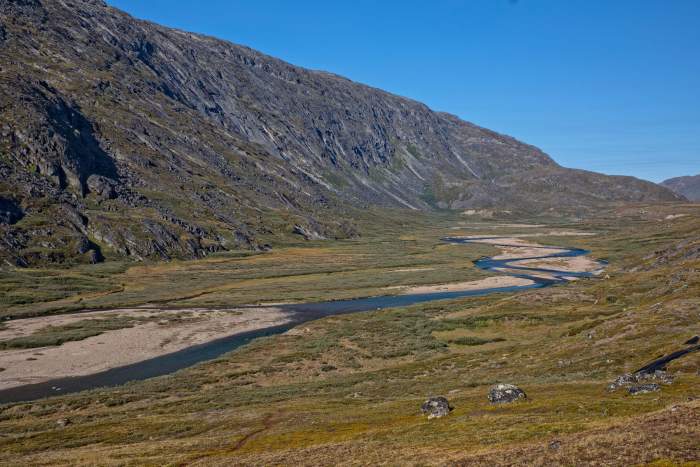 Day 1
Meet the Kangia
Your first encounter with the Kangia will no doubt be an eye-opening one. Most guests will opt to take the hike from the main lodge to an outpost upriver, where a large tent offers a place for changing out of hiking clothes and into waders, enjoying a coffee, or just taking a break from catching fish. Spend the day casting gaudy streamers or stripping and skating surface poppers to the Kangia's magical arctic char — some orange-bellied and richly-colored, having made the river their temporary home for the season, others dime-bright and electric, having only recently arrived from the salty waters of the Atlantic Ocean, just a few miles downstream.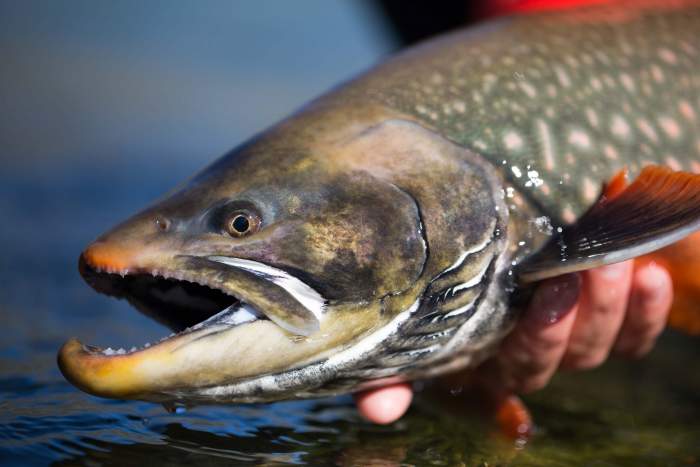 Day 2-6
The river beckons
Each morning the Kangia offers a new opportunities to make memories you'll scarcely forget—whether chasing after fish counts, experimenting with new angling tactics, seeking out your largest fish of the trip, soaking up Greenland's otherworldly landscapes, or just munching on fresh wild blueberries on your hikes to and from the main lodge. At the end of each day, you'll hope for an evening of clear skies, so you can spend another night on the lodge's deck marveling at the aurora borealis while dreaming of the bounty the river will no doubt deliver the next day.
Included
Guided fishing Group-guided fishing on the Kangia River
Lodging Your stay at Kangia River Lodge
Meals Simple, freshly prepared meals featuring local seafoods, meats, and more
Beverages Non-alcoholic beverages and draft beer
Transfers Transfer by boat from Maniistoq to Kangia River Lodge
Licenses and permits Your fishing licenses for the trip are included
Getting There
Guests visiting Kangia River Lodge travel through Greenland's capital city of Nuuk (GOH) and then fly on to Maniistoq (JSU). A lodge representative will greet you in Maniistoq, from where you'll embark on a scenic boat ride (approximately 2 hours) to the lodge.