Patagonia | Argentina
Patagonia River Guides: South
Season
November - May
Offset Partner
No
7 nights / 6 days
from $7,900 per person
Overview
There may be no fishing operation in all of South America with a reputation to rival Patagonia River Guides. The result of the hard work of American fishing guides turned Patagonian fishing guides turned Patagonian lodge owners Rance Rathie and Travis Smith, PRG's operation is known for it's diversity, quality, and impeccable attention to detail—both in terms of its fishing program and its lodge in Trevelin. And, regardless of how long anglers choose to stay at PRG's Trevelin lodge, it's possible to fish a different river every single day. From the famed Rio Frey in Los Alerces National Park, where big brown trout haunt the crystal clear, almost Jurassic river, to the Rio Corcovado, where anglers can tie into rare trophy brook trout in the fall, this region offers anglers the opportunity to experience all of the fishing that Patagonia is famous for. And "home base" offers all the comforts of home—if home is a stunning mountain lodge with expansive vistas, a winery on site, expertly prepared meals, a whiskey bar that's the envy of fishing and hunting lodges around the globe, and unmatched service where the little things truly do matter.
The Fishing
Variety is the name of the game at Trevelin — anglers can choose from stalking trout in cold, clear spring creeks that flow through sweeping low-country ranches to backcountry rivers accessed only by boat. Throw in the big water that Patagonia is famous for — like the Rio Grande — and small and intimate freestone streams that offer some of the best walk-and-wade fishing in Argentina, and you've got a program with diversity that few other destinations can match.
This is dry-fly country, which makes the fishing even more special. Large, high-floating, borderline-obnoxious flies turn big trout on just about any stretch of water in the region. Trophy trout can turn up in even the smallest waters, and you'll have guides at your shoulder who are sharing their home waters with you. 
If you like to throw big streamers to structure or swing big flies under cutbanks, you'll love the walk-and-wade spring creeks the area has to offer. Regardless of the fly fishing discipline you prefer, you'll have the chance to fish your way, as well as stretch your abilities and challenge yourself by trying something new.
Accomodations
LODGING: The lodge at Trevelin is a fishing lodge masterpiece. That may sound a bit flowery or perhaps boastful, but it's true. Situated among the lowlands outside of the community Esquel, the lodge is rustic, yet perfectly luxurious. Well-appointed rooms, homey gathering areas and three bars (the main bar with a pool table, a second bar on the wrap-around deck and a third bar  next to the spa area that overlooks the lodge's very own Contra Corriente vineyard) will make the time you spend off the water almost as special as the time you spend fishing. The spa area is new, and comes with a hot tub, a sauna and a massage center. 
FOOD/DRINK: As is the case throughout Patagonia, meals are events at Trevelin. Chef-prepared local fare is conjured up nightly, complete with wine pairings that just make the food better. And it's Argentine wine — some of the best malbecs and cabernets in the world, in addition to the lodge's own Contra Corriente chardonnay, pinot noir and gewerztraminer offerings. Morning breakfasts hit the spot before the day on the water begins, and a hearty lunch served picnic-style on a portable table with a bottle of wine is tough to beat. And don't forget the after-dinner drinks — Trevelin boasts a 200-plus bottle whiskey bar.

CONNECTIVITY: Both cell and internet connections are available at the lodge.
Sample Itinerary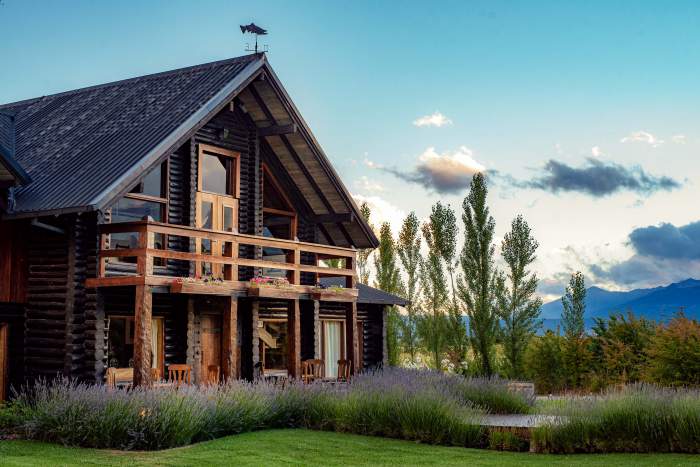 Arrival
Arrive to PRG's Lodge at Trevelin
Arrive to PRG's Lodge at Trevelin. Explore the grounds, take a stroll down to Contra Corriente winery, or take advantage of the lodge's brand new spa facilities. Dinner won't be long.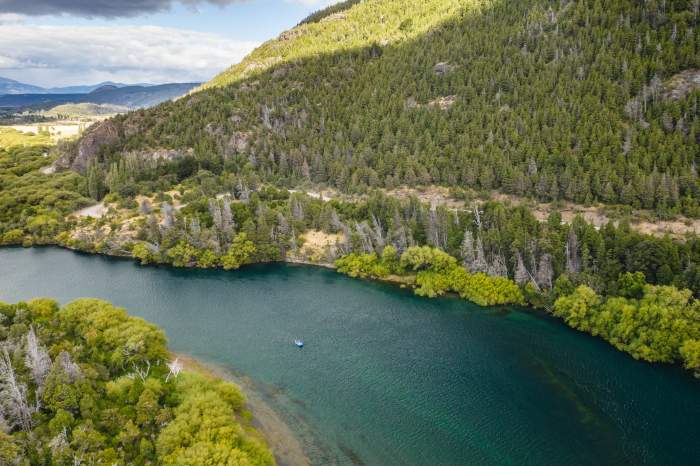 Day 1
Rio Grande
The Rio Grande is a big, beautiful, Patagonian river and, because it's the "home water" at PRG South, nobody knows it better than the lodge's guides. The Rio Grande is one of the most prolific rivers in Patagonia, and it might be the best river in the region for terrestrial dry-fly fishing. Trophy brown trout on giant flies — What's not to like?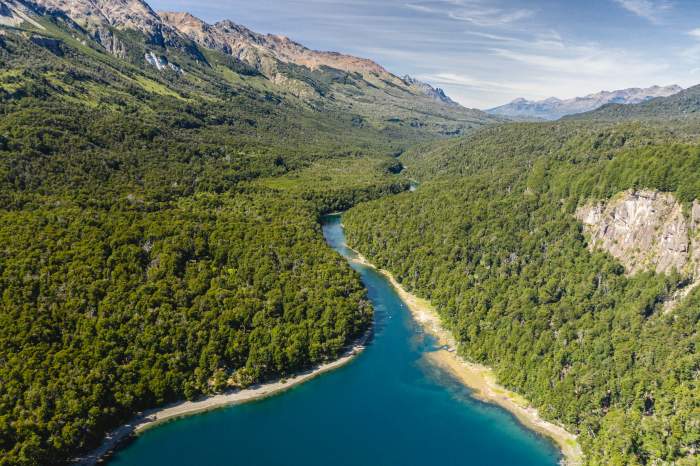 Day 2
Rio Frey
Located in Los Alcerces National Park, reaching Rio Frey requires a boat ride across not one, but two lakes in. But don't worry, it's worth the journey. Rainforest brown trout that see very few anglers chase streamers with abandon, many of which you'll be able to watch chase down your fly as they emerge from river-bottom rocks, logjams, and more.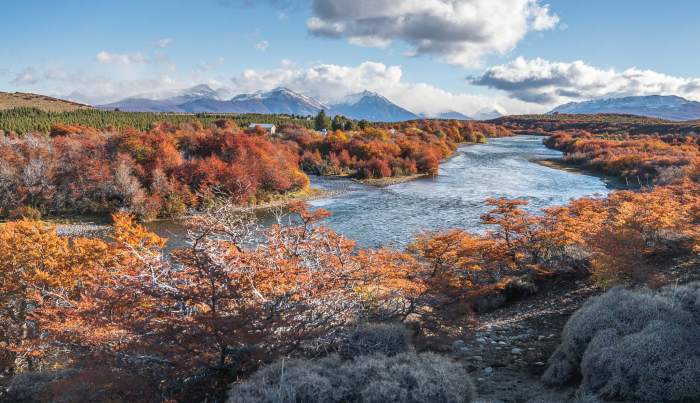 Day 3
Rio Corcovado
Love to walk and wade? Have a thing for trophy brook trout? If you visit Trevelin in the fall — March and April — you won't want to miss the Rio Corcovado. It starts in Lago Vinter and flows about 60 miles before it crosses into Chile and becomes the fabled Rio Palena. But these upstream sections, when brook trout move down out of the lake to spawn, offer a chance at brookies stretching the tape to 20 inches. Lower down, the river home to big browns and rainbows, so it's not just a seasonal fishery. But fall on the Corcovado … whew!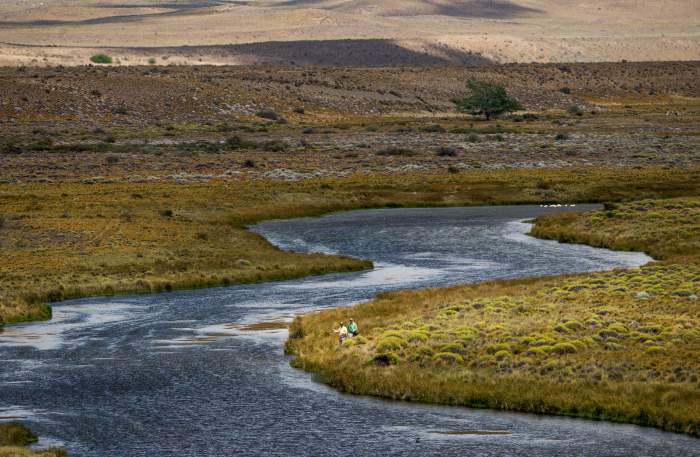 Day 4
Arroyo Pescado
With a couple of big rivers and a mid-sized freestoner checked off the list, it's time for one of the area spring creeks. The Arroyo Pescado is considered one of the best spring creek fisheries in the world, and it flows across the Patagonian steppe through a private estancia. It boasts prolific hatches and the chance to sight-cast to huge browns up to 22 inches long.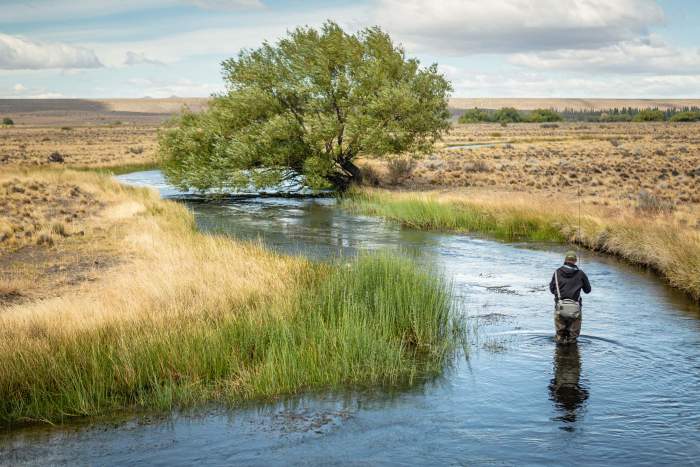 Day 6
Rio Gualjaina
Accessing the 20-plus-inch browns and rainbows in the Rio Gualjaina requires some commitment — it's a jarring drive to the river's best water, followed by a walk-and-wade bushwhack. But it's worth it. This river starts high in the Andes and flows east across the southern Argentine desert, picking up other rivers and streams, which keeps it cool and habitable for big trout throughout the season. The Gualjaina is a perennial favorite of PRG South guests.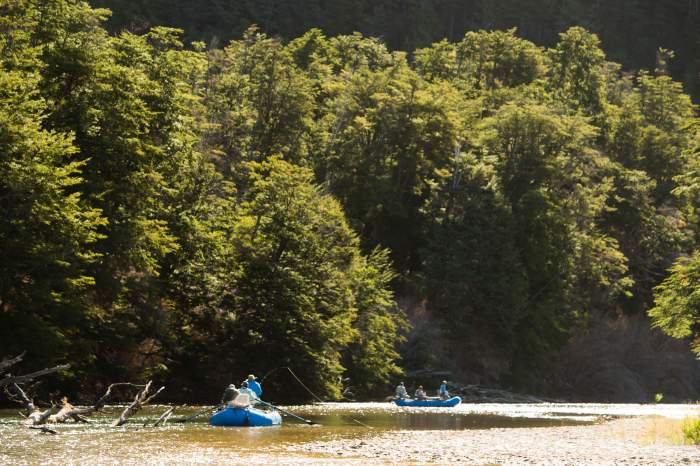 Day 6
Rio Rivadavia
It's your last day, and no trip to Trevalin is complete without a visit to Rio Rivadavia. According to the folks at PRG South, "The Rivadavia is considered to be one of the most beautiful rivers in the world and possibly the crown jewel of Argentine fishing." This fabled river flows crystal clear between Lago Rivadavia and Lago Verde, and it's lined by old-growth beech trees. It's a great float and walk-and-wade fishery, and it is chock full of 18-inch browns and rainbows. Fishing the Rivadavia will put the cherry on top of the perfect week of Patagonian fly fishing. 
Included
Guided fishing Fully-guided drift boat and walk-and-wade fly fishing
Licenses, permits, and fees Fishing licenses and all other fees for your trip are included
Lodging High-end lodging at PRG South's beautiful Lodge at Trevelin
Meals Excellent, chef-prepared Argentine classics
Beverages Alcoholic and non-alcoholic beverages are included
Equipment Don't want to bring yours? Use PRG's Winston Rods, Abel reels, and Simms boots + waders
Flies and terminal tackle Want to leave your fly boxes at home? Go ahead.
Getting There
Travelers headed to PRG South will connect through Buenos Aires to Esquel (EQS), where PRG South staff will be waiting to greet you at the airport for the 15-minute transfer to the lodge.