Overview
The Mesoamerican Reef System, which stretches over 600 miles from Mexico to Honduras, is the second-longest barrier reef in the world, trailing only Australia's Great Barrier Reef. Roughly midway through the system's length is the Turneffe Atoll, home to Turneffe Flats. The ecosystem of the atoll features expansive, healthy coral reef (both fringing reef and patch corals), back-reef flats and other geologic formations, extensive lagoon systems, sea grass beds, and extensive mangrove forests. The atoll is home to 500 species of fish, 65 species of stony corals, sea turtles, manatees, dolphins, seabirds, and other wildlife.  
Turneffe Flats has been family owned and operated for 40 years. Your hosts, Craig and Karen Hayes, have been running the lodge since 1981, when it was just a rustic fishing camp. Since then, the resort has developed into a world renowned fishing, diving, and eco-tourism destination.
The Fishing
Talk to seasoned permit anglers, and they'll tell you that there are only a handful of places where you can find dependable permit fishing every month of the year. Turneffe Flats is lucky enough to be one of them. The atoll's warm ocean waters and diverse marine life make Turneffe a year-round home to Atlantic permit—which is a big part of the reason why Belize is commonly referred to as the permit capital of the world.
Even though permit are the main attraction at Turneffe Flats, the atoll also offers excellent bonefishing and, between the months of May and October, attracts anglers seeking to land large migratory tarpon. Smaller, resident tarpon are also caught throughout the year. If you're doing the math, then you've already realized that this makes Turneffe Flats a serious destination for anglers seeking out the opportunity for a grand slam—landing a bonefish, tarpon, and permit all in the same day. 
And, for the alt-species angler, the Turneffe Atoll offers a buffet. Snook, barracuda, snapper, jacks, triggerfish, and several other species round out one of the most diverse fisheries on the planet.
Accomodations
THE RESORT: Turneffe Flats isn't just a lodge, it's a full-fledged resort—albeit one that caters to small, intimate groups of travelers. In addition to guest quarters and the main lodge, where the resort's dining room and bar are located, guests have the option to enjoy Turneffe Flat's infinity pool (which overlooks a bonefish flat affectionately known as the "home flat"), the exercise room, relax on the numerous observation decks, or take a stroll down to the resort marina. 
LODGING: Most guests visiting Turneffe Flats stay in the resort's beachfront cabanas, each of which features a deck with an expansive view of the Turneffe Atoll. For larger groups or families, the resort also has 3 villas available. 
FOOD/DRINK: Meals feature both Belizean and international fare. Fresh seafood, local produce, and home-baked pastries are standard regular features. Guests are given the option to return to the resort for lunch each day, or take a bag lunch with them as they explore the atoll.
Sample Itinerary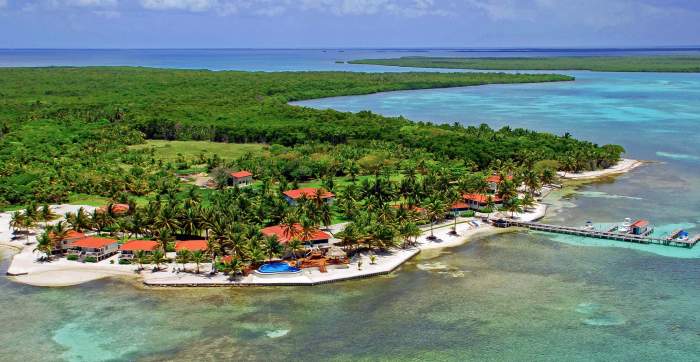 Arrival
Arrive to Turneffe Flats Lodge
Arrive at the lodge, toss your bags in your cabana, and head out to explore the resort. Walk the grounds, explore the main lodge, soak in the infinity pool, or grab your rod and go fishing—the lodge's "home flat" and its resident bonefish are right out front.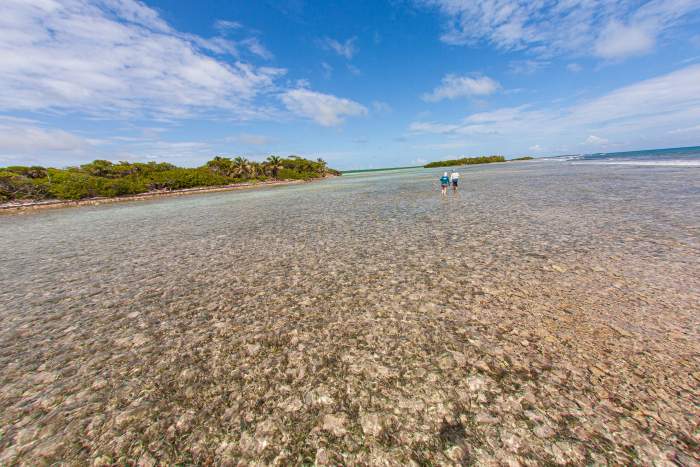 Day 1
Bonefish on the atoll
But I must explain to you how all this mistaken idea of denouncing pleasure and praising pain was born and I will give you a complete account of the system, and expound the actual teachings of the great explorer of the truth, the master-builder of human happiness. No one rejects, dislikes, or avoids pleasure itself, because it is pleasure, but because those who do not know how to pursue pleasure rationally encounter consequences that are extremely painful.
Day 2
Permit day
With the rust shaken off thanks to the tune-up offered by the atoll's bountiful bonefish populations, it's time for varsity fishing. Poll the atoll's bars and flats looking for migrating permit, wade its oceanside permit flats, or head to the atoll's central lagoon—a one-of-a-kind environment where resident permit are regularly on the prowl. As with any permit destination, once you get the shot, the rest is up to you—but there are few places likely to offer more opportunities than Turneffe.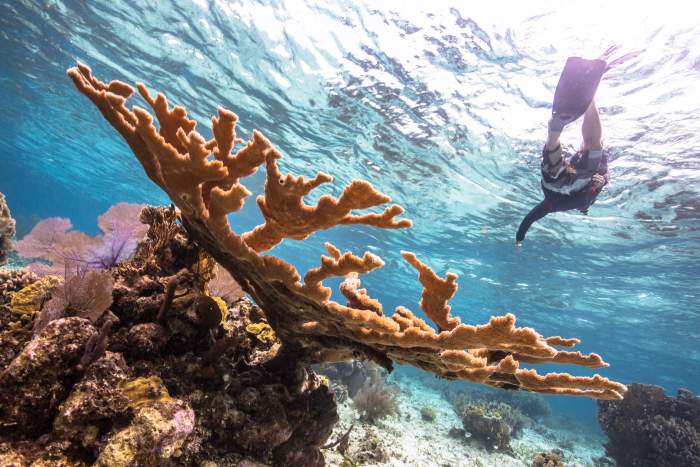 Day 3
Atoll adventure
There's much, much more to do at Turneffe Flats besides fish. That doesn't mean you can't spend your entire trip fishing—many guests do. What it does mean is that if you want to spend your time exploring the Turneffe Atoll without a rod in your hand, there are myriad ways to do so. Turneffe Flats is a scuba divers paradise that calls to divers from all over the world. In fact, you'll likely cross paths with guests that are visiting Turneffe Flats solely for their diving program. The resort also offers an excellent, guided snorkeling program, as well as a variety of eco-tours, both of which are easily combined with a half day of fishing if you want to have your cake and eat it, too. At the end of the day, top it all off with a soak in the resort's infinity pool, where tailing bonefish on the home flat might just lure you out of the pool and off to grab your rod.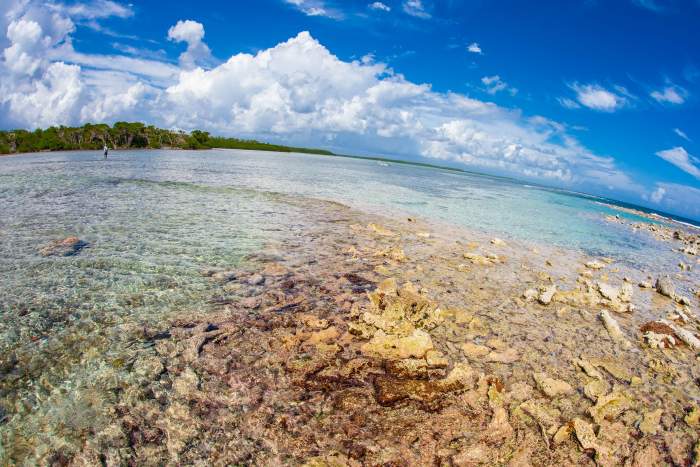 Day 4-6
A la carte
By now you've only had a small taste of everything Turneffe Flats and the atoll have to offer. Each evening you'll consult with your guide and your hosts, Craig and Karen, and hatch a plan for the next day. It is back to the bonefish or permit flats? Off to chase tarpon? Or more adventures exploring the atoll?
Included
Water transfer to lodge Transfers from Belize City to Turneffe Atoll on Wednesday and Saturdays
Guided fishing Fully guided skiff-serviced and walk-and-wade fishing
Lodging Your stay at Turneffe Flat's waterfront resort
Meals Breakfast, lunch, and dinner daily plus snacks and hors d'oeuvres
Use of resort amenities Use of on-site amenities including pool, sea kayaks, and the gym
Getting There
Guests visiting Turneffe Flats connect through Belize City on Belize's mainland. Travel to Belize City is easy from almost anywhere in the U.S., with direct flights available from at least ten different cities. After arrival in Belize City, guests will travel to the waterfront where they will transfer via boat to the Turneffe Atoll, a scenic ride that typically takes around 90 minutes. Guests arriving to Belize City late in the day may be required to stay overnight in town before transferring to the atoll the following day.