Iberá Marshlands | Argentina
Pira Lodge
Season
October - April
Offset Partner
No
5 nights / 4 days
from $5,750 per person
Overview
Wherever they swim—mostly throughout the near-equatorial regions of central and eastern South America—golden dorado have leapt to the top of many an angler's bucket list of species. Fierce, golden-hued predators, dorado attack flies with explosive abandon, and wow those that chase them with enormous, skyward leaps and impressive battles. 
The Iberá Marshland—or Esteros del Iberá—in northern Argentina's Corrientes region, is known for its crystal-clear, unpolluted waters. The second largest wetland on the globe, the marshlands are nearly pristine, thanks to the lack of nearby industry and rainfall being the region's only inflow. Throughout Iberá, papyrus, lilies, water hyacinth, lettuces, hibiscus, victorias and other vegetation entangle to form floating mats called embalsados which shape the marsh's waters and are commonly thick and strong enough to walk on. In the channels they form, golden dorado swim in impressive numbers. Feisty pirahna also patrol the marsh's waters, as well, adding to the angling diversity. 
The marsh is an ecological wonderland.  A marvel for wildlife enthusiasts and birders, up close and personal sightings of exotic species are a regular part of every day.
The Fishing
Accessing the marshlands is done entirely on skiffs, due to an almost complete absence of solid land masses throughout the preserve's 12,000 square kilometers. Anglers cast gaudy streamers, poppers, and even mouse patterns throughout the marshland's maze-like channels in search of the dorado that haunt its waters. From large, wide-open expanses like the Corrientes River (the region's only outflow), to narrow, vegetation-lined natural canals—some barely big enough to sneak a skiff through—Iberá offers an impressive variety of fish-hunting habitat.
Accomodations
LODGING: Built with exquisite Corrientes style and pride, Pirá Lodge enjoys a spectacular panoramic view of the vast wetlands. It accommodates up to 10 guests in five deluxe rooms, each with a private entrance, private bath, two double beds, ceiling fans and air conditioning. A separate building, attached by covered walkways and open-air patios, accommodates the spacious living room, bar, and dining room areas—each with tall doors that open to the wide veranda. Pirá Lodge was designed by award-winning architects to respect traditional regional elegance—offering all of the comforts and luxuries of a contemporary hotel. Relax and enjoy a cocktail at any hour, and cool off in the outdoor swimming pool after a rewarding day of fishing.
FOOD/DRINK: A top-notch team of experienced national and international chefs, trained in both classic and avant-garde culinary techniques, execute the lodge's food. With an artisan's touch, chefs prepare every dish by scratch to be served at a minute's notice. Inspired lunch and dinner menus are paired with some of Argentina's—and the world's—best wines, Bodega Catena Zapata, through a wine partnership that celebrates Argentine heritage and brings truly world class wines to the lodge. 
CONNECTIVITY: Reliable Wi-Fi is available in both Pira Lodge's guest rooms and common areas.
Sample Itinerary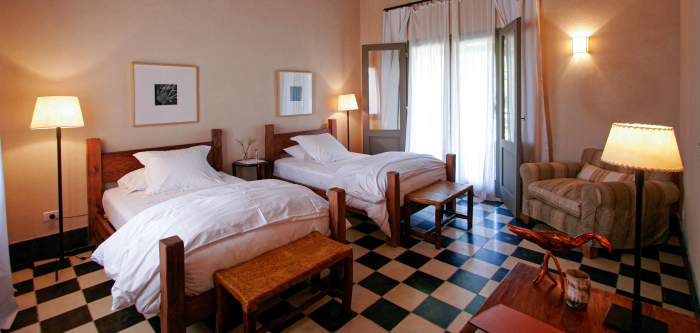 Arrival
Arrive at Pira Lodge
Arrive at architect-designed Pira Lodge. Tour the grounds, soak in the pool, wander down to the dock on the edge of the marshlands to peer into what awaits you tomorrow, or just settle into a seat at the bar while you wait for dinner.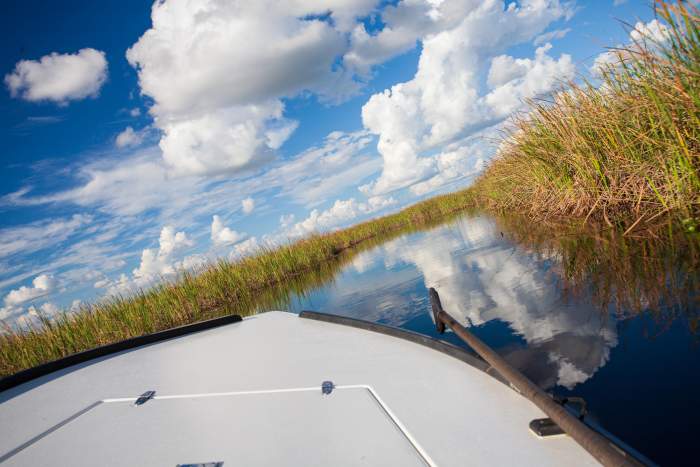 Day 1
Venture into the Wetlands
Embark for the first time into the expanse of the Iberá Marshlands, to chase its coveted golden dorado throughout its maze-like channels. Spend the day casting gaudy streamers, poppers, or even mouse patterns to entice the willing and eager predators that swim in its crystal clear waters.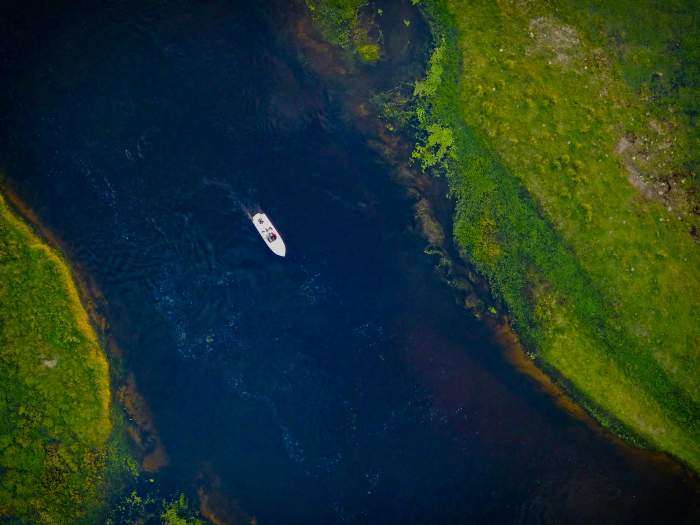 Day 2
Fish the Corrientes River
On the larger waters of the Corrientes River, a short skiff ride from the lodge, the floating lines and surface presentations that are the name of the game elsewhere in the marshlands are still front-and-center. But anglers will also take advantage of sinking lines, casting to the Corrientes' banks in down-and-across presentations that will be familiar to streamer-fishing trout anglers, in hopes of connecting with Iberá's largest dorado.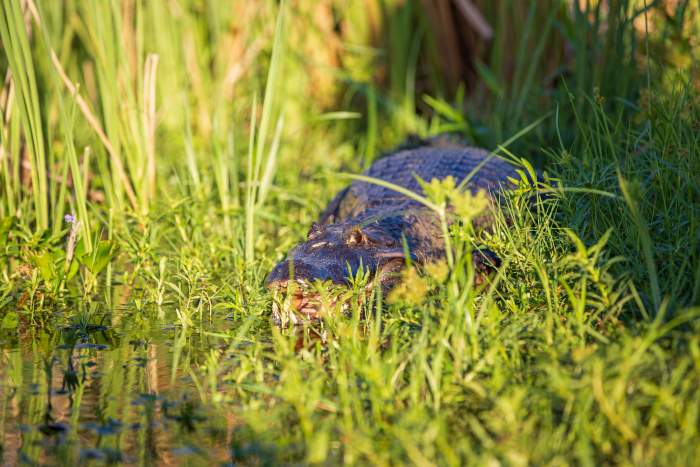 Day 3
Dorado and Ibera's wildlife
Capybara, the world's largest rodent which can reach sizes of up to 50 pounds, and cayman are seen on virtually every excursion into the wetlands, and over 4,000 species of birds call Iberá home.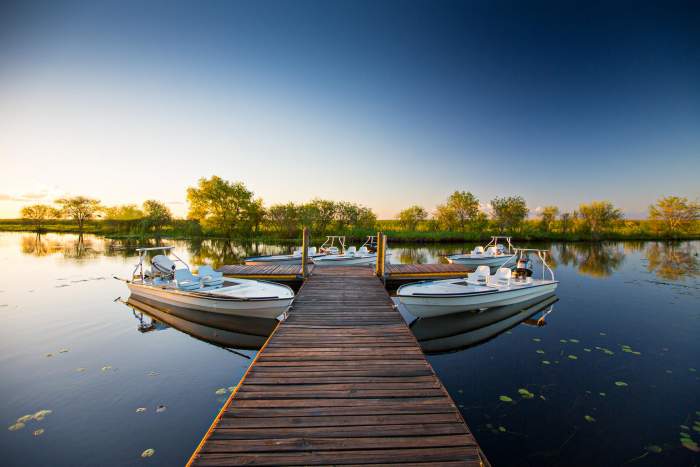 Day 4-5
Dorado, your way
By now you've gotten a taste for much of what the Ibera Marshlands have to offer. Whether you have 5 days on tap or 10, you'll consult with your guide each morning to plan the day's adventure. Is it back to the Corrientes in search of the trip's biggest, golden prize? Or do you push farther into the marsh's maze-like channels in search of dorado that may have never seen a fly before? It's up to you.
Included
Guided fishing Fully guided skiff-serviced and walk-and-wade fishing
Lodging Your stay at Pira's one-of-a-kind oasis
Meals Excellent, chef-prepared Argentine classics
Beverages Alcoholic and non-alcoholic beverages are included
Equipment High-end loaner rods, reels, and lines are available
Getting There
Guests headed to Pira Lodge connect through Buenos Aires via an overnight trip on a first-class class sleeper bus which arrives in Mercedes, Argentina bright and early the following morning. Lodge staff will greet you in Mercedes, from which the lodge is roughly an hourlong ride in a 4x4 away.
Charter flights from Buenos Aires to Mercedes—or even direct to the lodge's private landing strip (weather permitting)—are also available.