Patagonia | Argentina
Patagonia River Guides: Unplugged
Season
October - April
Offset Partner
No
2 nights / 3 days
from $2,250 per person
Overview
Enjoy wilderness floats down storied rivers like the Limay, Chimehuin, Alumine, and Chubut. Thanks to the "Unplugged" program's multi-day river trips, anglers are able to access water that's unavailable to day trippers—opening up the opportunity chase fish that seldom see flies. Long fishing days — there's no rush to get off the river — end at "camp," where you'll have the chance to enjoy a hot shower and a cocktail before an amazing meal. Finish off the day with another drink around the campfire with your fishing buddies before you climb between the sheets in heated wall tents. Breakfast awaits, and then it's another day on the river searching for trophy browns and rainbows. Campers have never had it so good.
The Fishing
For many anglers, PRG's Unplugged program is a big fish mission. If you're headed to Patagonia in search of the fish of your lifetime, there may be no better place than Rio Limay, where 30-inch brown trout haunt the runs and pools of this remote river that flows across the arid Patagonian steppe towards the Atlantic ocean, and where PRG's guides have dialed in the necessary calculus to put anglers on truly giant fish. 30-inch fish aren't exactly common, but are a real possibility. You'll swing streamers through deep water for big trout—but it's not just a subsurface game. Throughout the season you can bring big trophy browns and rainbows to the top with big, high-floating Chernobyls and Fat Alberts, and you might get into some wild mayfly and caddis hatches that'll make top-water action almost non-stop. Even better? With no rush to get off the river in time to make it back to a lodge or an estancia for dinner, you can literally fish until dark.  
Accomodations
LODGING: It's camping, but … well … not really. Yes, you'll sleep in a tent, but that's where the "camping" really ends. While you're out fishing for the day, the PRG team will be busy setting up camp under the shade of riverside willows. Roomy, 8-man tents are devoted to only 2 anglers, with comfortable beds, down comforters and fresh linens, and plenty of room to stretch out. They're also heated by wood stoves if the night gets a bit too chilly. Sure, it's a tent. But there's a chance you won't even realize it. 
FOOD/DRINK: Once you come off the water after a long day spent chasing giant trout, you can pour yourself a cocktail from a well-appointed and mobile bar and enjoy some campfire time before dinner. Enjoy chef-prepared fare in the camp's walled dining tent, served on real plates with real flatware and accompanied by excellent Argentine malbecs and cabernets served in real glasses. Breakfast is just as impressive, with freshly baked pastries, breakfast meats, eggs and all the fixings. After a morning spent fishing, you'll meet up with your fishing buddies and enjoy a picnic lunch complete with a bottle or two of good red wine or a cold Patagonian beer. 
CONNECTIVITY: There's no internet on the overnight trips, but you can charge your phones, cameras and laptops while the generator runs, and it's possible that you'll catch a cell signal now and then. 
Sample Itinerary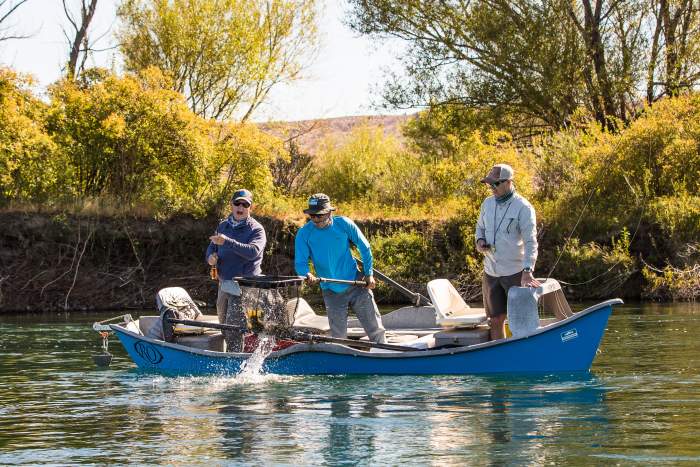 Day 1
Hit the water
You'll put in on the Rio Limay and start your first day fishing this stunning tailwater that flows through the taupe landscape of the Patagonian desert. Right away, deepwater troughs offer some of the best streamer fishing on the river, and it just gets better as you float downstream. The Limay is big water, and for big browns you'll be throwing sinking lines and big streamers in hopes of connecting with a legitimate trophy fish over 25 inches long. The river opens up and spreads out a bit over the steppe, giving you the chance to ditch the sinking lines and fish side channels, braids and classic trout water as you make your way to camp.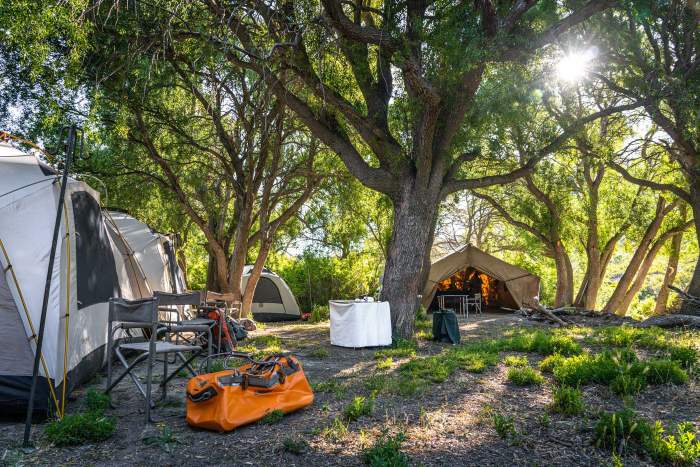 Night 1
Arriving at camp
Given that the Unplugged camp crew has to break down, transport, and reassemble the entirety of camp each day, it's almost hard to believe how comfortable—luxurious by camping standards—camp is. Relax with a cold beer, soft drink or cocktail, enjoy a piping hot shower, and settle in for gourmet appetizers and a delectable meal prepared by Tato, the longtime chef at camp. After dinner, recount the day's stories around the campfire for as long as your able to resist the call of the most comfortable camp bed you've ever slept in.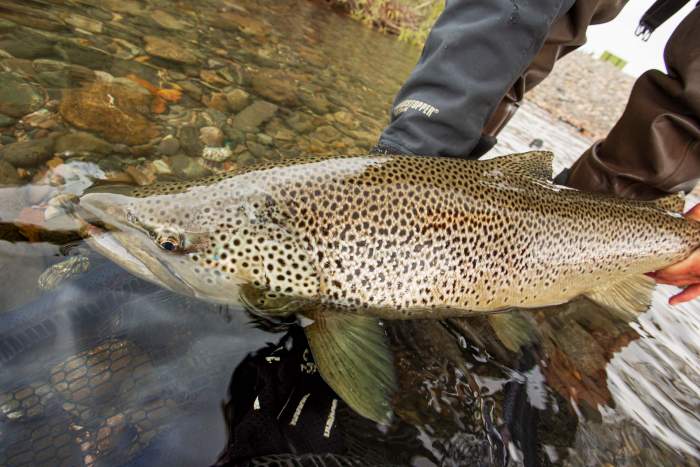 Day 2
The river widens
After breakfast you'll get an early start, this time casting to the willow-lined banks of the river with high-floating dry flies. You'll start to see more hatches and more surface activity as the river opens up even more and develops more fishy character. You'll enjoy a luxurious, streamside lunch, then fish until dark, and pull into camp to a waiting campfire and a cocktail.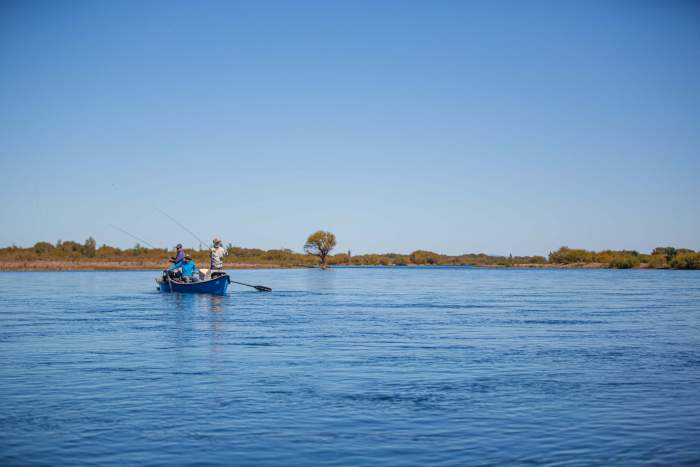 Day 3
Bringing it all together
It's your last day of the "camping" trip, and you've already battled your trophy brown to the boat. Today is a day dedicated to casting to rising trout — to seeking out the fish you want to catch and then making the cast needed to bring it all together. You'll marvel at the dry and arid landscape surrounding the wonderfully productive river and the abundant insect life that makes it the perfect home for trophy browns. At the end of the day, you'll reach the take-out, and you might be a little sore from all the casting and catching. But you'll never forget this amazing adventure. 
Included
Ground transportation Transfers from San Martin de los Andes to camp
Guided fishing Fully guided drift boat and walk-and-wade fishing
Lodging Your stay at the roving Unplugged camp
Meals Chef-prepared meals in the wilderness? Check.
Beverages Alcoholic and non-alcoholic beverages are included
Equipment Don't want to bring yours? Use PRG's Winston Rods, Abel reels, and Simms boots + waders
Flies and terminal tackle Want to leave your fly boxes at home? Go ahead.
Licenses Licenses and permits for your trip are included
Getting There