Patagonia | Argentina
Patagonia River Guides: North
Season
November - April
Offset Partner
Yes
4 nights / 3 days
from $3,400 per person
Overview
Anglers plying the waters of the Rocky Mountain West often fantasize about what it would have been like to fish the trout-choked rivers in Montana, Idaho, Montana and Colorado a century ago or more — long before throngs of solitude-seeking transplants descended on those places. While those days are long gone for the American West, the good news is they are alive and well on the other side of the globe. Patagonia, today, might not be as wild as the Rocky Mountains that Lewis and Clark first laid eyes upon not long after the dawn of the 19th century, but it likely shares much in character with the pristine country that enchanted Teddy Roosevelt half a century later. It's for this reason that Patagonia calls to anglers across the world, and why it sits atop many a fisherman's bucket list. Few, if any, places in the world can offer the quality, diversity, and unspoiled nature of the fishing found on the arid steppes, sprawling ranchlands, and volcano-ringed mountain valleys of Patagonia.
The Fishing
Patagonia's trout—brown, rainbow, and brook—are as wild and undisturbed as trout found anywhere on earth. First transplanted by European settlers in the early 1900s, Patagonia's trout have flourished for over a century. Today's Patagonian trout are stout, healthy, richly-colored beauties that rarely, if ever, fail to impress. Average fish sizes in most rivers range from 16-18", with trout over 20" commonplace, and fish over 30" taken every year.
Accomodations
LODGING: This is one fishing adventure where it really isn't all about the fishing. The famous estancias of northern Patagonia offer anglers a rare opportunity to experience the culture of the region, and the colorful history unique to each individual estancia. The stories they house and the memories they shelter offer anglers an opportunity to immerse themselves in something truly special.
FOOD/DRINK: Each estancia is different, but every meal is an event in Patagonia. Fresh local fare dominates every menu. From locally raised beef to wild game like red stag and wild boar, to regional seafood delicacies, each meal is delivered perfectly and complemented by delicious Argentine wines — the Mendoza district is home to the best malbec grapes on earth, and the wine proves it.
CONNECTIVITY: Cell signals are solid around regional population centers, and most estancias have reliable internet connectivity.
Sample Itinerary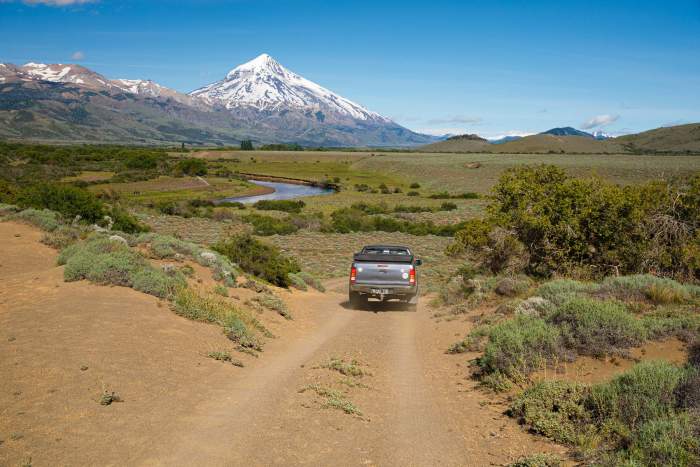 Day 1-3
Rio Malleo + San Huberto Lodge
Start your Patagonian adventure on the storied Rio Malleo, one of the most renowned dry-fly fishing rivers in the world. Based out of the historic San Huberto Lodge, one of the first to cater to guests in northern Patagonia, you'll walk-and-wade the river casting dry flies to trophy browns and rainbows. Guests of the lodge have private access to over 25 miles of the Malleo as well as to Huaca Mamuil Creek, famous for its dry-fly fishing and only accessible to San Huberto's guests. Should you tire of casting dry flies to rising trout, have your guide take you to the stunning canyon reach of the lower river, where you might hook and land a 24-inch brown trout that appears out of nowhere to seize your streamer.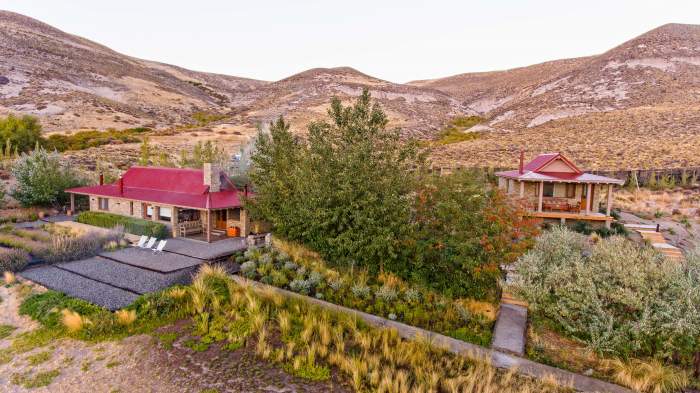 Day 4-6
Rio Chimehuin + Tres Rios Lodge
From the new, boutique lodge at Tres Rios, which boasts panoramic views of the Patagonian steppe, you'll fish one of the most productive rivers in Argentina — the Chimehuin. It's a river with wildly varying character — one minute, you'll be hucking streamers under the willows hoping to tempt one of the Chimehuins brutish brown trout, the next, you'll be trying to match a hatch of caddis coming off in clouds or even sight-casting to an individual rising trout that will test your fly-fishing acumen and give you the thrill that comes with hooking and landing a challenging fish. The Chimehuin has something to please almost every angler, and fishes well both from a drift boat and on foot. And because Tres Rios (Three Rivers) sits at the confluence of the Chimehuin, Aluminé, and Collon Cura rivers, anglers spending more time at the lodge have access to a plethora of additional water.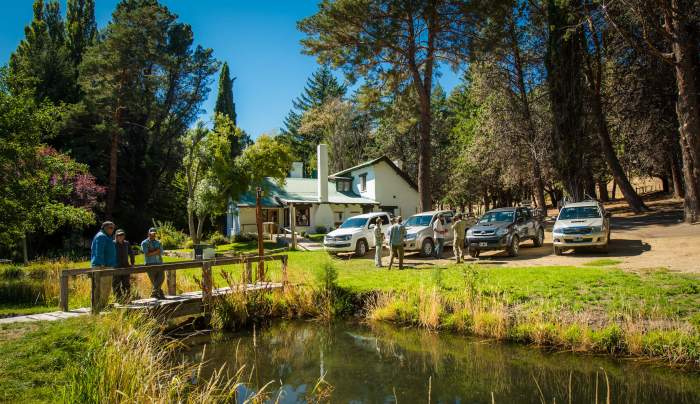 Day 7-9
Rio Collon Cura + Quemquemtreu
Quemquemtreu is an enomrous, sprawling ranch that once spanned the entirety of South America, from its Atlantic shores across the Andes to where the continent meets the Pacific Ocean. Steeped in history and tradition, it is one of the oldest and most endearing estancias in northern Patagonia. And the Rio Collon Cura which runs through the ranch is just as storied — its trophy browns and rainbows are bruisers, and the freestone nature of the river will give you a feel for what fishing in the American West might have been like before it was "discovered" and settled. The river is a drift-boat angler's dream stream, with long, productive runs, seductive side channels and the chance to walk-and-wade at will. In the fall, giant schools of native minnows run up the river, offering the chance at 100-fish days as the lake's football-sized rainbows and browns follow the smaller fish into the river. From the lodge, when water is plentiful, you can also fish fabled Quemquemtreu Creek, an intimate spring creek that offers some of the excellent sight-fishing for trophy brown trout. 
Included
Guided fishing Fully-guided drift boat and walk-and-wade fly fishing
Licenses and permits Fishing licenses for your trip are included
Lodging High-end lodging at private Patagonian ranches and estates
Meals Excellent, chef-prepared Argentine classics
Beverages Alcoholic and non-alcoholic beverages are included
Equipment Don't want to bring yours? Use PRG's Winston Rods, Abel reels, and Simms boots + waders
Flies and terminal tackle Want to leave your fly boxes at home? Go ahead.
Getting There
Guests visiting PRG North will connect through Buenos Aires to San Martin de los Andes (CPC) in Patagonia, where PRG North staff will be waiting for the 30-45 minute (depending on what estancias you're visiting first) transfer to the lodge.